When it comes to windows and doors in the construction industry, usually the mind will always strike towards wood because of its warmth and beauty. But if we continue to procure wood for our windows and doors, it will impact our environment and encourage deforestation of our forests.
To solve the real issue of using wood for window needs, we have introduced Woodminium windows with the replication of wood patterns on aluminium using a sublimation process with imported raw materials. Our product finish, quality, and appearance are key factors that lead us to the top 10 windows and doors companies.
The name Woodminium is driven from the combination of words "wood+aluminium". It is the technique of giving wood effect to aluminium by offering the look and feel of wood, with 74 patents and having footprints in 98 countries. Not just that, Woodminium also is a trustworthy brand that provides end-to-end aluminium and uPVC windows solutions. 
Woodminium is the newest unit of Ajit group of companies. Ajit set its foot into the aluminium industry with Ajit coatings, in 2006 which was a brainchild of founding partners. As of today, Ajit coatings is one of the largest integrated aluminium surfaces treatment companies in India.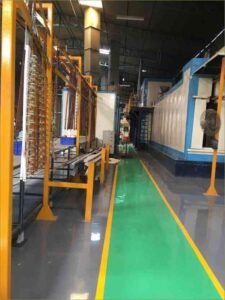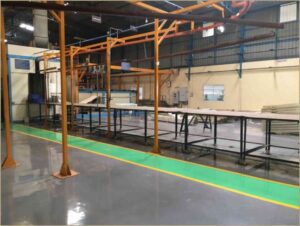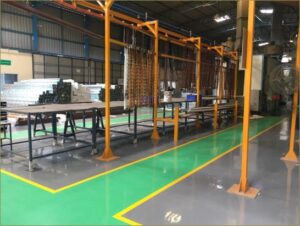 Ajit Coatings Plant Infrastructure.
Ajit Coatings was incorporated about 15 years ago intending to serve the Aluminium Extruders, Fabricators, Interiors, Façade system product designers, Solar Industry, and other Industrial applications with high-quality Anodizing, Powder coating, Wood Effect, and PVDF requirements with value-added profiles with innovative solutions to meet the ever-increasing customer demands.
After starting the first organization, Ajit group didn't stop there. They introduced Ajit Glafa in 2013 as a solution provider for the fenestration industry. We provide complete and comprehensive facade solutions from design, fabrication, and installation for all applications of new generation architectural products for interior and exterior.
We are armed with a team of dedicated and highly skilled professionals who are expertized in providing custom solutions to our clients with factory processed and assembled glazed panels, which enhances and escalates the building envelop with a faster, precise, and accurate installation process.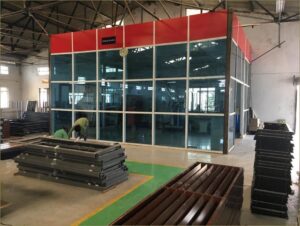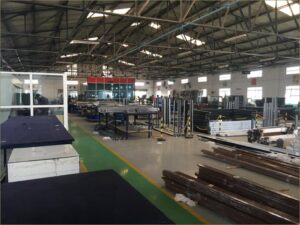 Ajit Glafa Plant Infrastructure.
As a part of the Ajit group, Woodminium is founded and managed by a group of qualified engineers who worked in the United Kingdom for 15 years in a similar industry and returned to India to set up a business and to provide sterling quality products and services. 
We follow three simple things as our pyramid – we plan, design, and execute. Through this, Ajit Group has become a name with quality, affordability, customization, durability in a short span and is counted among the top 10 windows and doors companies.
Wrapping Up. 
With an overall experience of 15 years, starting from the coating of aluminium surface to the structure of aluminium profile section for windows and doors has helped us to be considered as the top 10 windows and doors companies.