We can link wood finish aluminium baffles in bangalore to timber cladding that has been used for centuries, with its origins dating back to the 'Dark Ages' (5th-15th centuries). It was especially popular in areas where forests were plentiful, as the wood materials were easily accessible. Timber cladding was a favored material for cladding Anglo-Saxon homes in Britain.
After the dark ages, cladding was still a popular building material for architects to use. In this period of time, wood was still an easily accessible material and was used to construct strong huts with sturdy beams. For example, by the 16th century, 'weatherboarding' became a popular type of cladding to use on building exteriors. It became a popular construction style for housing and featured long thin pieces of 'clapboard' to cover exterior walls.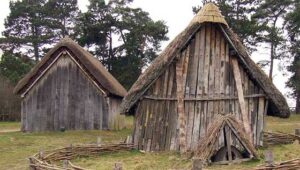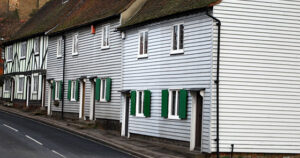 Use OF Timber In the 5th Century                                         Weatherboarding in the 16th Century
Wooden timbers are still used in modern architecture, but it comes at the cost of contributing to deforestation. On average, 3.5 to 7 billion trees are cut down each year for different usages. This not only affects the people and animals where deforestation takes place but also has a ripple effect on the rest of the world. In terms of climate change, cutting trees both adds carbon dioxide to the air and removes the ability of trees to absorb existing carbon dioxide. As a result, deforestation is one of the leading causes of climate change.
Wood Finish Aluminium Baffles – The  Better Alternative
Woodminium Aluminium Baffles is created with a cutting-edge film transfer technology that gives aluminium a wood-like appearance that is stronger, safer and easy to use than wood. With a range of colours and hues inspired by nature, Woodminium has a range of colours inspired by the natural world, from traditional woody hues to dark modern ashes.   
Advantages Of Aluminium Baffles
Available in Various Shapes, Sizes And Colours
At Woodminium, we understand that each architectural project has its own unique design vision. Our mission is to help bring that vision to life by offering a wide variety of shapes and sizes to choose from so that your overall design is fulfilled.


Hard Wearing & Low Maintenance
Our products are designed for low-maintenance, easy-care living. Woodminium's specialised finish has outstanding properties to ensure ease of maintenance and longevity of your surfaces. This means you spend less time upkeeping your product, and more time enjoying it. Also aluminium baffles are termite free and corrosion free.
Fast And Accurate Installation
When it comes to installing an architectural element, speed and accuracy are key. Spending extra time on-site can increase costs, which can put pressure on the budget. We use a unique system that doesn't require adhesives or nails, and all fixings and screws are concealed to give you a beautiful wood finish without any visible hardware.
Acoustic Performance
Good acoustic performance is an important aspect to consider for almost all types of buildings. This is especially true for areas where sound needs to be amplified or reduced.If you're looking for a way to increase the comfort of your building, acoustic reduction is a great option. It's especially important for multi-residential buildings, schools, hospitals, and theatres. Our Battens are regularly installed in these types of buildings because they offer premium acoustic performance.
Applications
Baffles are a versatile design element that can be used for a wide range of applications, from simple gates to complex architectural designs. There are endless possibilities for what you can do with baffles, making them a great option for any project. Baffles can be used in your facades, they can be used in roofing to give your room a distinctive look, or they can be used as partitions and also as a backdrop to your tv room. Baffles are an increasingly popular design element in both commercial and residential architecture. Their unique geometric shape can add visual interest to any facade, roofline or interior space. Additionally, baffles can be used to create privacy partitions or to provide a unique backdrop for a television or other focal point.
Maintenance
Maintaining your wood grain product is very easy and effortless. Maintenance does not require much time, allowing you to focus on what matters more to you. Woodminium products do not require re-staining, re-coating or re-sealing. However, we do recommend cleaning your aluminium products every one to two months with a mild solution of fresh water and pure soap (or mild non-abrasive kitchen detergent) in warm water.Wood finish aluminium baffle panels are used for different purposes like sound absorption, thermal efficiency, thermal mass and acoustic mass. A lot of people look at using wood finish aluminium baffle panels in home or office spaces in Bangalore because they give a very unique look to the house or office. Have a look at our dedicated page for inspiration on wood finish aluminium baffles in Bangalore