When it comes to picking the right aluminium windows for your house, there are a few things you need to take into account. The most important factor is the style of your home, and how the windows will fit in with the overall look. 
Types of Aluminium Windows
Aluminium windows are a popular choice for many homeowners. They come in a variety of types, each with its advantages. Here are the different types of aluminium windows available.
Casement Aluminium Windows
Casement aluminium windows are designed to open outwards from the side of the window frame and are typically used in place of traditional hinged windows. 
Since these windows are made of aluminium, which makes them durable and easy to maintain, and can be fitted with a variety of different glass types depending on your needs. 
Casement windows are a great choice for homes with limited space, as they don't take up as much room as hinged windows when opened.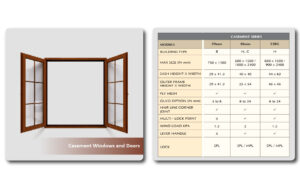 Here is the technical chart attached of the Casement/openable aluminium window. Our Casement windows can go up to the height of 2400mm. 
Sliding Windows and Doors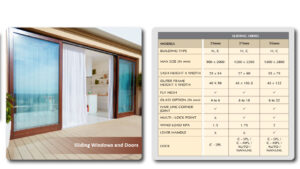 Sliding aluminium windows are a type of window that uses a sliding mechanism to open and close the window. This type of window is typically made of aluminium, which makes it a durable and weather-resistant option. Sliding aluminium windows are a popular choice for homes and businesses in areas that experience high winds and severe weather conditions.
These windows improve the insulation and energy efficiency of your home by reducing energy bills that are incurred while controlling the temperature of the home. 
Sliding and Folding Door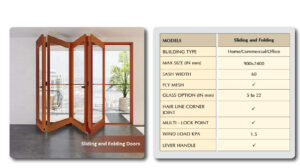 These doors seamlessly connect the outdoors to the indoors. Once folded, it creates a large opening for easy access providing more space instantly. 
It is functional, featured to have interlocking sashes for increased strength, and suits classic or modern style homes. It is weatherproofed around the frame to minimize draughts, dust, and water leaks. 
They are completely customizable and can be designed without a threshold at floor level. No doubt they are becoming popular amongst the homeowners.
Slim line Windows and Doors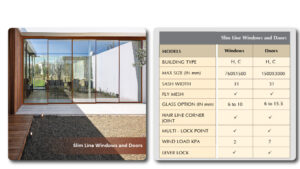 Slim, sleek, seamless look with superior strength is what these series epitomize. These series have concealed handles, and no hardware is visible.
Frames of the doors are concealed within the walls, maximizing natural light in the room.
A perfect blend of functionality and durability, the sliding series offers a premium look instantly. Slim series can be used for sliding or fixed windows/doors.
Consider your Climate: 
When selecting new windows for your home, it is important to consider the climate in which you live. In climates with severe weather conditions, such as hurricanes or blizzards, it is important to choose windows that are made of strong and durable material, like aluminum. 
Aluminum windows can withstand high winds and extreme weather conditions, making them a perfect choice for homes in these climates.
Aluminium is a good material for windows because it is strong and doesn't corrode, but it is important to choose the right style of window for your climate.
In very cold climates, it is important to choose a style of window that will keep the cold out, and in very hot climates, it is important to choose a style of window that will let the air circulate.
Choose The Right Colour:
There are a variety of reasons why homeowners may choose to have customized aluminum windows installed in their homes. One reason may be that they are looking for a specific color that is not available in pre-manufactured windows. By having the woodminium windows custom-made, the homeowner can ensure that they get the perfect color to match the look and feel of their home.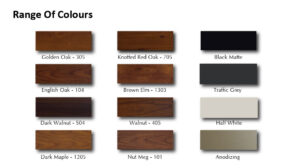 Conclusion
In conclusion, it is important to pick the right aluminium windows for your home. Consider your climate and choose the right colour to match your home's style. Talk to a professional to find the best fit for your home.