Aluminium windows that look like timber are one such innovative solution. If you are looking for an innovative way to introduce a new design in your home, then you should consider using aluminium windows that look like timber. This is a remarkable innovation in Bangalore because it is an eco-friendly material that can be easily recycled.
These windows can be customized to any design and installed on both new and old buildings with minimal interference. The windows provide excellent insulation and durability which is of paramount importance in any city where the weather is extreme and unpredictable.
CONSTRAINTS OF WOOD
> Wood requires regular polishing & maintenance. 
> Atmospheric influences, particularly temperature and moisture, or warping, of wooden frames. 
> Wood can also be affected by termites, borers, and fungi.
> Wood is a flammable material. 
> Over time, wood tends to deteriorate. 
Benefits of Aluminium windows that look like timber.
Aluminum windows that look like wood will give your home a natural feel and will give you the same benefits of using real wood. They won't rot like wood does and come with many different finishes you can choose from. You may want to use them on a porch or on an outdoor living area, they don't need any maintenance and they are affordable.
Aluminium window frames can be made to look like real wood windows.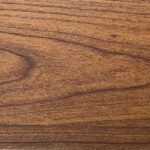 Wood effect on aluminium windows is the new trend in the market. Many homeowners want to match their windows' appearance as much as possible with the aesthetic looks of their house. 
Woodminium provides high quality and uber market wood effects that look like timber windows.
Our Aluminium window and door frames are coated with a base coat first. And then they undergo a sublimation process where the wood effect patterns are added to the surface of the frames. Wood effect patterns are coated by covering the entire aluminum profile in a special plastic wrap that has the wood pattern printed on it. 
Then the air is sucked out of the bag and the profile is then placed in a sublimation oven that bakes aluminium profile at 200 degrees. Then the wood effect pattern which was printed on the special wrap is transferred under heat to the base-coated profile. All the raw material is imported and hence the coating comes with a warranty. 
This provides a strong bond of the wood effect, not just on the surface that is visible, but on the entire aluminium profile. By offering all the advantages and looks of wood, be it the richness of the mahogany, the burls & curls of walnut, or the grains of teak.
All the architecture finishes meet global AAMA Standards and are Qualideco and Qualicoat approved. 
Contact us if you are a homeowner and interested in aluminium windows in Bangalore that look like timber.